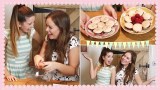 1.77K Views0 Comments0 Likes
Myself & Tanya attempt to bake Macarons Tanya's Video: Subscribe to Tanya: Thanks to Jim for filming :) : Ingredients: 130 g / oz Egg Whites (4 Eggs) 230 g / 8 oz Icing Sugar 130 g / oz Ground Almonds 60 g Granu...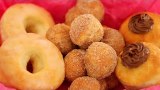 657 Views0 Comments0 Likes
SUBSCRIBE Here: Learn how to bake your own Homemade Donuts (3 ways) at home! Hi Bold Bakers! By popular demand, I'm bringing you my favorite Baked Donuts done 3 BIG & BOLD ways! I think you'll like my baked donuts b...